---
Upcoming events:
Sunday, March 1 — Resistance Grows in Haiti, 11 Years after the Coup

Thurs., March 12 — The Mosque of Paris, how Muslims in Paris Sheltered Jews During World War II * Flier * Flier w/out photo, x2

Click HERE for details.
---
Click HERE for directions to Livermore.
Click on the image below for a downloadable flier with details: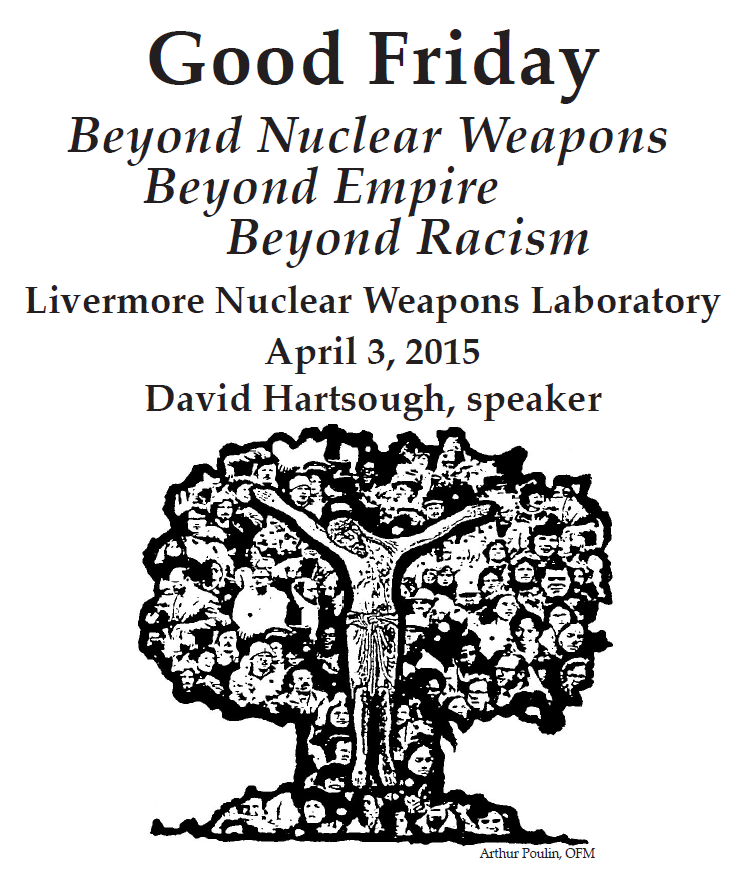 ---
Click on: from
The United Nations Charter
Regarding the Use of Military Force
---
Mark Coplan took lots of good photos of the Dinner gathering. You can to to his Flikr webpage to view them. Thanks, Mark!
---
You may watch a video of the August 6 event at Livermore, thanks to Chizu Hamada.
---
View the Good Friday event at Livermore online at: "FAILURE TO DISARM: Holding Our Government Accountable" * Download: PDF flier
---
Livermore lab security arrests 40 in annual Good Friday anti-nuke protest
By Jeremy Thomas
Posted: 04/17/2014 02:12:47 PM PDT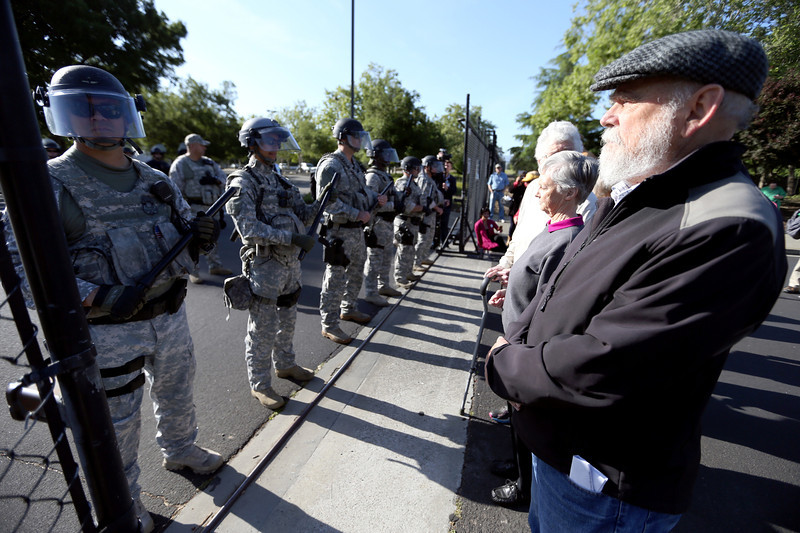 David McPhail, of Kensington, and other protesters block an entrance guarded by the National Nuclear Security Administration protective force at Lawrence Livermore Laboratory in Livermore, Calif., on Friday, April 18, 2014. (Anda Chu/Bay Area News Group)
LIVERMORE -- A group of 40 anti-nuclear activists, including a Dominican nun, were peacefully arrested at Lawrence Livermore Laboratory at the conclusion of an annual Good Friday protest organized by local interfaith group.
An estimated 115 protesters gathered at Vasco and Patterson Pass roads for a worship service and speeches on nuclear weapons, proceeding to the lab's west gate at 8:30 a.m., where those who chose to do so were arrested by lab security. Those arrested were cited for obstructing a public roadway and released.
"The arrests were routine and peaceful and were handled well by all law enforcement involved," said Livermore lab spokesman Steve Wampler.
The Alameda County Sheriff's Department, California Highway Patrol and Livermore Police Department assisted in the arrests. According to lab officials, the west gate was closed for two hours.
The annual Good Friday protest is organized by the Ecumenical Peace Institute of Berkeley and the Livermore Conversion Project in Oakland. It has been held for about the past 30 years.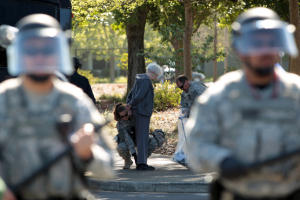 A protestor is processed and arrested after blocking an entrance guarded by the National Nuclear Security Administration protective force at Lawrence Livermore Laboratory in Livermore, Calif., on Friday, April 18, 2014. More than 100 protesters marched to the laboratory on Good Friday. (Anda Chu/Bay Area News Group)
"The message of today's event is that we've got to stop devoting our valuable resources, our energy, our money, and our intelligence in the service of killing people, and turn it toward creating things that give life," said Ecumenical Peace Institute program coordinator Carolyn Scarr, who was among those arrested.
At the gathering, keynote speaker Kathy Kelly, co-coordinator of Voices for Creative Nonviolence, talked about the impacts of military intervention in Iraq and Afghanistan. Members of Livermore-based Tri-Valley Communities Against A Radioactive Environment (CAREs) also spoke, giving an update on the Department of Energy's annual budget request for the lab.
Contact Jeremy Thomas at 925-847-2184. Follow him at Twitter.com/jet_bang.
---
EPI's new phone number: (510) 990-0374 or 510.99.00.EPI
---
A TPP webpage has been created. For information, click on: TPP-Jeju

Alameda Poet Laureate Mary Rudge Dies: Mary, Stella Maris
---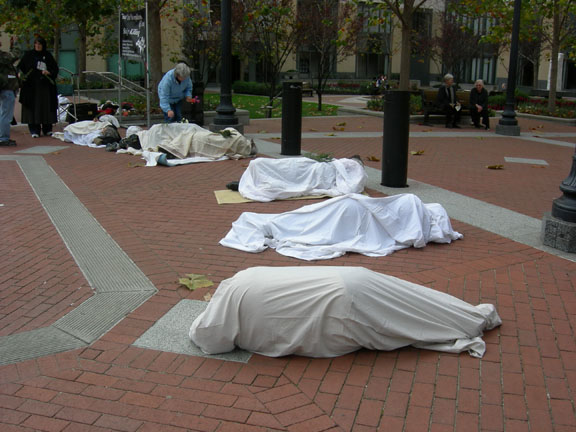 The vigil in front of the Oakland Federal Building is now just once a month, along with the Living Graveyard, on the 3rd Monday (on occasion the Monday will be changed. Look to the top of this webpage for the current info. Please join us!
---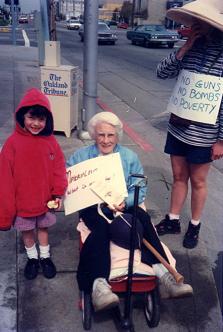 "On the Edge of Peace—
Voices from the faith-Based
Peace and Justice Community",
an anthology of poems from the
Peace & Justice community
---
The Strangers
No one knows why they came
to this town
in the middle of winter,
he an out-of-work builder
she large with pregnancy.

But here they are
with the clothes on their backs
two blankets
between themselves and the concrete
and the rain descending.

Here they are.
And somehow
she delivers her child
with no woman beside her
assisted by her husband only.

Here they are
the three of them
sheltered in a doorway
wrapped in their blankets
as morning comes.

12/17/00
Copyright © 2000, Carolyn S. Scarr
---
Report on INS Interview
Re: Joseph & family, application for refugee status
You say you come from Israel,
a protectorate of the Roman Empire,
here to Egypt seeking asylum.
Please state your reasons for departure.

You were warned in a dream.
Please state the specifics of the warning.

You were just warned,
by an angel,
to flee with your baby and your wife,
because Herod the king would kill your baby.
You are a village carpenter.

Why would Herod care
whether your baby lived or died?

You are a descendant of David.
How many generations ago did David live
and how many descendants of David are there now?
What other reason would Herod have
to want to kill your child?

You don't know exactly.
You were warned in a dream.
Have you had any other unusual dreams?

You were told in a dream to marry your wife.
You were engaged to be married.
Why wouldn't you marry her?

Right. So she has dreams, too.

When exactly were you married? Well,
let's not go into that. Do you have any other reason
to believe yourselves in danger besides the dream?

As you were travelling here
you heard rumors of a massacre of young children
in the last town you stayed in.
What reason do you have to believe that massacre
was aimed at you?

Why else would he kill all those babies
–– how should I know? Everyone knows that Herod
goes in for random mass killing.
The target could be anyone.

You passed through the Sinai Desert on your way
to Egypt. Why did you not remain there?
Why did you come here?

You say there is not much to eat in the Sinai Desert
and no work.
So you came here for a job.
Conclusion: It is recommended that Joseph, Mary, and dependent child Jesus be classified as economic refugees. The presence of bloodshed in the protectorate of Israel does not establish that any violence was directed at them in particular. Furthermore both adults are subject to delusionary states of mind. It is probable that their son will exhibit similar behavior. It is recommended that this family be returned as soon as possible to their country of origin.
© 1994 Carolyn S. Scarr