There was no Living Graveyard July. The next will be on Monday, August 17 in front of the
Oakland Federal Building, 301 Clay Street two blocks from 12th Street BART. Details


---
The new "Planted By the Water" EPI newsletter is out! To download, click on the button in the menu to the left, or click HERE
Mea maxima culpa. Somehow the previous issue failed to get posted. DOWNLOAD THE WINTER-SPRING 2015 "Planted".
August 6: The August 6 Hiroshima-Nagasaki vigil and protest is well into the planning stage. Information will be posted as it becomes available, but please mark you calendars for Thursday, August 6, 8:00 am at Vasco and Patterson Pass Roads in Livermore. We will observe the bombing at 8:15. There will be a walk from the Mt. Diablo Unitarian Universalist Church in Walnut Creek to Livermore, with overnights at Peace Lutheran Church in Danville and at the Peace Camp. For more info, click on the image below for a downloadable PDF flyer.
There will be a walk from the Mt. Diablo Unitarian Universalist Church 55 Eckley Lane, Walnut Creek (MAP) to Livermore, with overnights at Peace Lutheran Church in Danville and at the Peace Camp. For details, contact Bob Hanson.
---



Click on: from
The United Nations Charter
Regarding the Use of Military Force
---
Mark Coplan took lots of good photos of the Dinner gathering. You can to to his Flikr webpage to view them. Thanks, Mark!
---
This year's Hiroshima/Nagasaki observence is already in the plannng stages, but You may watch a video of last year's August 6 event at Livermore, thanks to Chizu Hamada.
---
EPI's new phone number: (510) 990-0374 or 510.99.00.EPI
---
A TPP webpage has been created. For information, click on: TPP-Jeju

Alameda Poet Laureate Mary Rudge Dies: Mary, Stella Maris
---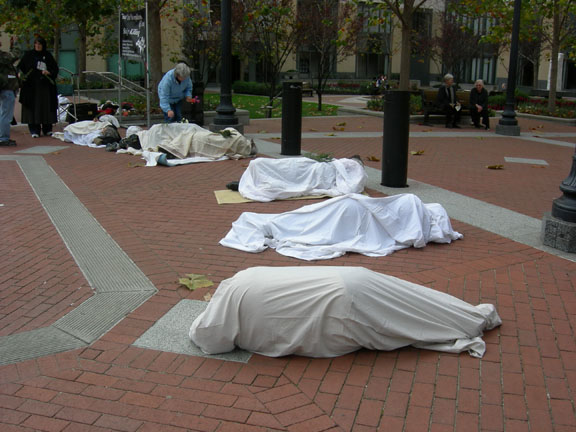 The vigil in front of the Oakland Federal Building is now just once a month, along with the Living Graveyard, on the 3rd Monday (on occasion the Monday will be changed. Look to the top of this webpage for the current info. Please join us! Further information
---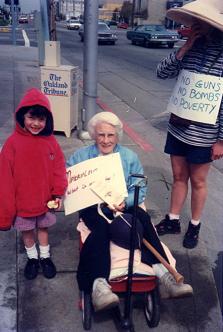 "On the Edge of Peace—
Voices from the faith-Based
Peace and Justice Community",
an anthology of poems from the
Peace & Justice community
---
The Strangers
No one knows why they came
to this town
in the middle of winter,
he an out-of-work builder
she large with pregnancy.

But here they are
with the clothes on their backs
two blankets
between themselves and the concrete
and the rain descending.

Here they are.
And somehow
she delivers her child
with no woman beside her
assisted by her husband only.

Here they are
the three of them
sheltered in a doorway
wrapped in their blankets
as morning comes.

12/17/00
Copyright © 2000, Carolyn S. Scarr
---
Report on INS Interview
Re: Joseph & family, application for refugee status
You say you come from Israel,
a protectorate of the Roman Empire,
here to Egypt seeking asylum.
Please state your reasons for departure.

You were warned in a dream.
Please state the specifics of the warning.

You were just warned,
by an angel,
to flee with your baby and your wife,
because Herod the king would kill your baby.
You are a village carpenter.

Why would Herod care
whether your baby lived or died?

You are a descendant of David.
How many generations ago did David live
and how many descendants of David are there now?
What other reason would Herod have
to want to kill your child?

You don't know exactly.
You were warned in a dream.
Have you had any other unusual dreams?

You were told in a dream to marry your wife.
You were engaged to be married.
Why wouldn't you marry her?

Right. So she has dreams, too.

When exactly were you married? Well,
let's not go into that. Do you have any other reason
to believe yourselves in danger besides the dream?

As you were travelling here
you heard rumors of a massacre of young children
in the last town you stayed in.
What reason do you have to believe that massacre
was aimed at you?

Why else would he kill all those babies
–– how should I know? Everyone knows that Herod
goes in for random mass killing.
The target could be anyone.

You passed through the Sinai Desert on your way
to Egypt. Why did you not remain there?
Why did you come here?

You say there is not much to eat in the Sinai Desert
and no work.
So you came here for a job.
Conclusion: It is recommended that Joseph, Mary, and dependent child Jesus be classified as economic refugees. The presence of bloodshed in the protectorate of Israel does not establish that any violence was directed at them in particular. Furthermore both adults are subject to delusionary states of mind. It is probable that their son will exhibit similar behavior. It is recommended that this family be returned as soon as possible to their country of origin.
© 1994 Carolyn S. Scarr