Ecumenical Peace Institute (EPI) began during the war against Vietnam with counter-recruitment actions by clergy and lay people at the Oakland Armed Forces Induction Center. We have remained explicitly multiracial, interfaith, and activist. We have continued to play a key role in many struggles by bringing in the religious left.
Among the issues we work on are: nuclear weapons – with a particular focus on our "neighbor" the Livermore Nuclear Weapons Lab; racial justice including supporting affirmative action and defending Native American rights for both communities and individuals; economic imperialism – the impact on people abroad and in the U.S.
We have maintained a focus on the inter-related issues of racism, militarism, and materialism, providing a context for education, reflection, and nonviolent action. We make a particular effort to make clear the connection between the issues, and work in coalition with issue-specific organizations.
We seek to answer the call to change systems which create and perpetuate misery for most of the world's people, joining to build a community of justice locally and world-wide.
---
Our Board of Directors.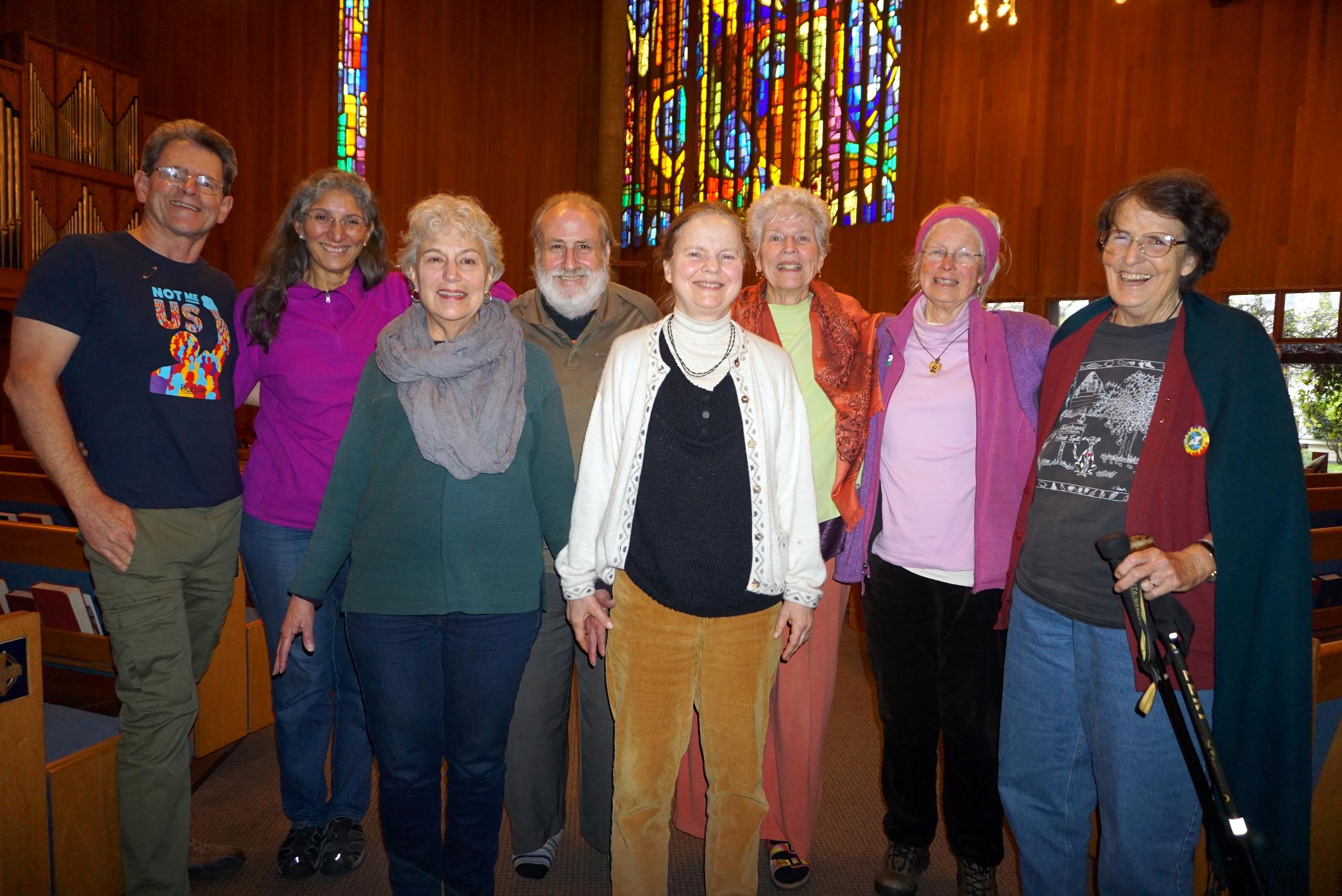 This, from our Board Retreat February 6, 2017, left to right: Mark Coplan, Nelly Quinonez, Nancy Taylor (vice-president, Shakur Mujmara bin Ibrahim (Daniel Zwickel, practicing for the Muslim registry), Marilyn Jackson (office Coordinator), Janet Gibson (president), Vivian Zelaya, and, demonstrating that the first shall be last, our indomitable Carolyn Scarr.(secretary & program coordinator), You may click on the photo to view full-size.
Not pictured are: Rev. Silvia Brandón-Pérez, and Marilyn Madsen (treasurer). Pierre Labossiere, Cynthia Johnson, Steve Kelly, S.J. and Gloria Escalona.
Our Board of Advisors are: Diana Bohn, Rev. Daniel Buford, Rev. Nobuaki Hanaok, Annette Herskovits, Alexandra (Sandy) Hunter, Rev. Ron Stief, Father Louis Vitale, and Lonnie Voth.