Archives 2013-2014
---
The Bossuyt report to the UN Commission on Human Rights of 21 June, 2000. Valuable reading to understand the nature and effects of sanctions. PDF Document

What U.S. Military learned in Viet Nam

Read about the 2013 Hiroshima / Nagasaki event on the Tri-Valley CARES website, where there are great photos and videos, and on their Citizen's Watch webpage.
Daniel sang a song he composed last Good Friday, called, "It Is Healing that I Seek". You may download it as a PDF document and share: It Is Healing That I Seek

December 23, 3013—Carolyn writes:
Dear friends, Today I have arrived at my seventieth birthday.

I would welcome a donation to Ecumenical Peace Institute, whose year end appeal may be read by clicking on this text link. I have been working with EPI for the last thirty-five years. It has been good work, challenging and eye-opening. I hope you have found valuable and useful EPI's interfaith efforts to end the racism, materialism and militarism upon which the U.S. empire is supported.

Peace and joy, Carolyn

Before I archive the webpage on Mother Agnes–Mariam Of the Cross, here it is: MAM
---
Archives 2010-2012
---
Our 2012 Ecumenical Peace Institute Autumn Gathering, "People, Land and Justice The Community Challenge to Protect Public Land" was fabulous! And it was all recorded by Tony Scarr on his new digital machine. We hope to make it available in mp3 form so that those who missed it can listen to the wonderful and informative talks, and those who were there can re-visit it.
Thanks to our presenters, Gray Brechin, Patricia St. Onge & Pennie Opal Plant, and to all who worked to hard to make it a success, and to those who attended, making all our work worthwhile!

Archived January 27, 2012:
Poema / Poem:
soy troy davis (silvia brandon pérez)
Archived December 3, 2011.
---
Sacred Sites Peace Walk
for a Nuclear Free World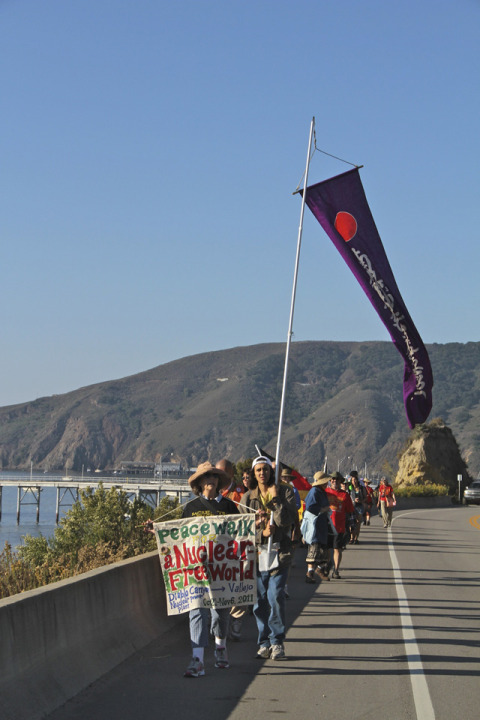 Thursday, Nov 3
Walk start place 30540 Mission Blvd, Hayward. Staying at Intertribal Friendship House, 5234 International Blvd, Oakland. Dinner and evening of drumming and dancing.
Friday, Nov 4
Walk starts at 5234 International Blvd Oakland (reaching Oakland City Hall by 9) Staying Berkeley Fellowship of Unitarian Universalists, Cedar & Bonita Sts., Berkeley . Evening Pot Luck Dinner, Speak Out & Discussion facilitated by Joanna Macy at the Berkeley Fellowship of Unitarian Universalists, 6pm. \
Saturday, Nov 5
Walk starts at BFUU (Cedar and Bonita Sts)
Walk ends in Richmond. Community Event at the Native American Health Center, 260 23rd St, Richmond 4pm-7pm We will have guest speakers, Richmond City Mayor-Gayle McLaughlin, community/activist organizations, Q & A session, and much more. Followed by a community potluck. (Staying at a different place)
Sunday, Nov 6
Walkers will meet at the Dead Fish Restaurant on the south side of the Carquinez Bridge at 9 am and will walk through the city of Vallejo to Sogorea Te for a closing prayer around noon. We will then go to Glen Cove Park for an end-of-walk POTLUCK meal. We will take time to talk about the walk and the condition of Sogorea Te. Please bring your own dishes, cups and utensils. Please bring a dish or drink to share.
Archived October 24, 2011:
Our own Carolyn Scarr, along with Cindy Sheehan, Karen Pickett and Susan Crane was honored in a celebration of food, music, comedy and theater at the Hal Carlstad Social Justice Award Dinner Friday, July 22 at the Berkeley Fellowship of Unitarian Universalists. Congratulations to all!
Brian Willson had a very successful book tour, and his new book, "Blood On the Tracks" is available. I've left up the great flier, which gives you information, including the website. You may click on: PDF
Good Friday audio files have been prepared. I am listing the full tracklist; links will be put in as we receive clearance. Should you wish to follow the Order of Worship, click on: PDF
Track 2: "La Madre Tierra" (Silvia A. Brandon Pérez)

Track 4: Welcome (Janet Gibson)

Track 5: Report from Tri Valley CARES (Marylia Kelley)

Track 6: Responsive Reading (Nancy Souisa)

Track 7: Scripture Reading Mark 15:21-41 (Silvia A. Brandon Pérez)

Track 8: Homily: "The Cross in the Midst of Creation" (Rev. Sharon Delgado)

Track 9: Call for the Offering (Marijke Fakasiieiki)

Track 10: Offertory (Tony Scarr)

Track 11: Closing Prayer Rabbi David Cooper (with a poem by Aurora Levins Morales)
Track 11: Processional: "For the Beauty Of the Earth" (Daniel ben Avrám & Tony Scarr)
***********************************************************
March 19, 2011
Sorry we inadvertently lost the 2010 Good Friday photo slideshow. Here it is: Good Friday Photos.
October 25:
Conversations About Peacemaking in the 21st Century, October 24th. Conversation With Rev. Dr. Rita Nakashima Brock, Ph.D: Perpetual War, Torture and the Truth Commission, from 5:30-8:30 p.m. at Trinity Lutheran Church, 650 Alma in Oakland, CA. (MAP). FLIER.
Dr. Brock is the Founding Co-Director of Faith Voices for the Common Good, an organization dedicated to educating the public about the values and concerns of religious leaders and organizations. She also works with The New Press in New York as Senior Editor in Religion. During 2001-2002, she was a Fellow at the Harvard Divinity School Center for Values in Public Life.

From 1997-2001, Dr. Brock directed the Fellowship Program at the Radcliffe Institute for Advanced Study, Harvard University, formerly called the Bunting Institute, and the seven years before she became an administrator, she held an endowed professorship at Hamline University. Dr. Brock's latest book is: Saving Paradise: How Christianity Traded Love for This World for Crucifixion and Empire.

She is a member of the U.S. group of the Ecumenical Association of Third World Theologians, the leading global organization of liberation theologians. Her work continues to interweave religious questions with issue of justice in the U.S. and international contexts. As an active member of the Christian Church (Disciples of Christ), Dr. Brock, has served on its General Board and Administrative Committees and from 1996-1998, was the first Chair of the Common Global Ministries Board, a joint venture of the United Church of Christ and the Disciples of Christ.

In 1993, Dr. Brock represented the National Council of Churches on an ecumenical, international, high-level delegation to Guatemala and El Salvador to support the peace-making processes in both countries. In March of 2010 she participated as one of five Bay Area commissioners in the "Truth Commission on Conscience in War." They had a powerful public hearing at Riverside Church on March 21, with 14 testimonies from veterans, a Gold Star Mother, religious leaders, experts on moral injury, and war correspondent Chris Hedges.

EPI's history of support for conscientious objectors will naturally lead us into the national campaign to protect the freedom of moral conscience for those in military service. This evening's gathering will give us essential signposts.

We invite you to help fund these events in addition to your potluck food offering so we can continue to lift up voices for peace in the East Bay!
---
October 21, From Home Page:
It's needing fine-tuning and more photos, but you're welcome to preview the Slideshow from Good Friday: Photo Gallery.
For those who missed the Good Friday service with Pierre Labossiere and Barbara Rhine, and with music by the wonderful Betsy Rose, you may still view the flier and read the Order of Worship.
August 30, 2010: Archiving Good Friday, 2009 Service:
Archived from the home page, August 30:
Carolyn & Esther Receive Awards! Our very own Carolyn Scarr, along with EPI stalwart, Esther Ho were honored at American Muslim Voices' 2010 Peace Convention Saturday, March 20th. Here's the FLIER; & here is AMV's WEBSITE.
Watch this slide show of photos from the January 20th Inauguration Day Living Graveyard: SLIDESHOW.
---