Our Fall Gathering was terrific,
and a recording of it is now available for viewing.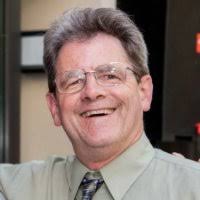 Our videographer Mark Coplan (bravo, guy!) writes: "Here are two versions of the video of our Sunday program. Both are the same video, but it is a very large file, so the first might be easier for older computers."
EPI Program "Empire — Secrets & Lies"
(Low Resolution) 1 hr 35 min:
https://youtu.be/mXCNV3a3NTw;
High res:
https://youtu.be/RBPXV2t_QhM
Great job by all.


Now you can watch and listen!

Our annual virtual Poetry for Haiti fundraiser
was a great success!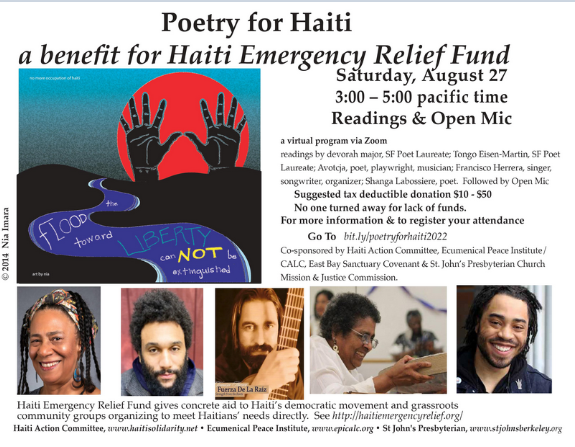 Mark Coplan writes,

Here is the video of the poetry event. It is a very large file so I made a medium bitrate file for computers that can't handle the larger file.I was so impressed with the quality of Francisco's audio that I had to cut out a music sampler to share.
Enjoy and share these videos,



Watch this video
of the Haiti Citibank Demo July 27 2022:
Making the Unthinkable Impossible:
ABOLISH NUCLEAR WEAPONS!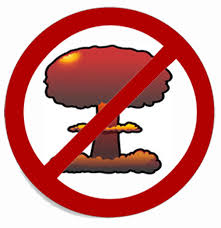 Although it is passed, you may view a recording of this rally at any time by pressing here: https://enlightenedfilms.com/august-rally

(Listen to "Ascension" by EPI's Daniel ben Avrám. Press on this: Ascension)





Good Friday

"This Tax Day — What doth the Lord Require of Thee?"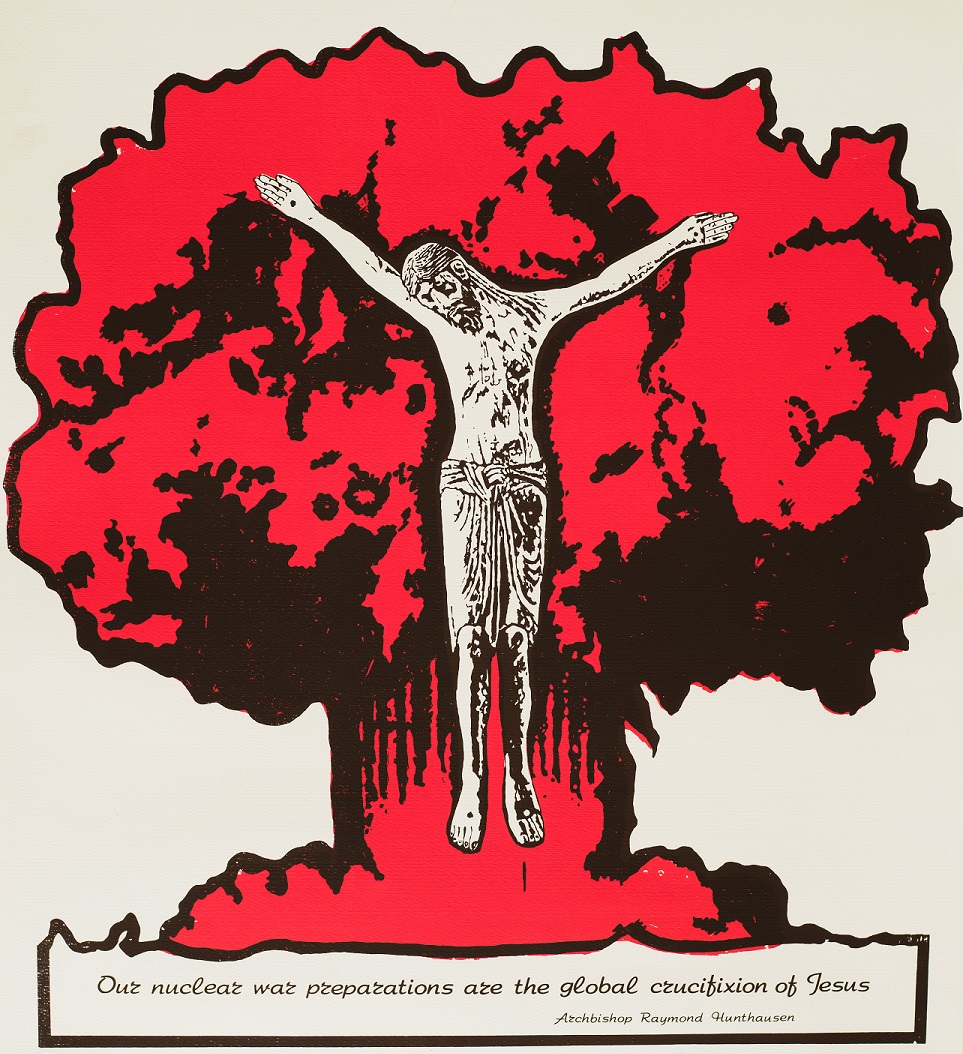 I hope you were able to join us in this beautiful, powerful Good Friday
Virtual Livermore Lab Interfaith Worship and Witness.


To view photos and videos of GF 2022, click: HERE
For a copy of the program, including the call and response readings, click: HERE.
(En español, haga clic AQUÍ.
Gracias a

Tri-Valley CAREs y Raiza Marciscano-Bettis

por la traducción.
)




This year Good Friday fell on the first day of Passover,
so we also celebrate exodus from bondage, always to be hoped for, and midst Ramadan,
which we celebrate with our Muslim brethren.



Co-sponsored by Ecumenical Peace Institute/Clergy and Laity Concerned (EPI/CaLC)
and Livermore Conversion Project (LCP),
with the assistance and participation of Tri-Valley CAREs.


Our guest preacher was Rev. Allison Tanner with music by Betsy Rose, Rev. Silvia Brandon-Pérez and Daniel ben Avrám, and Sacred Dance with Carla De Sola and Zara Anwar.


The event, for all people of faith &/or good will, included readings and speakers from a variety of the world's spiritual traditions.
Marylia Kelley, executive director at the Livermore-based Tri-Valley CAREs, also spoke from the gates of the Lab. She offered an update on the Livermore's nuclear weapons work with a focus on the new warheads the Lab is currently developing.
Janet Cordes Gibson did the welcome. Isabella Zizi offered a First Nation honoring of the land and the ancestors. Farha Andrabi Navaid shared the Good Friday invocation. Wynd Kaufmyn and Rev. Max Lynn conducted the call and response reading, and Carl Anderson offered thoughts on nonviolence and the war in Ukraine. The program also included Jim Haber, Mark Coplan, Tony Scarr, clarinetist, and Fr. Ivan Tou.
CLICK HERE for a copy of the program, including the call and response readings.
HAGA CLIC AQUÍ para leer la información en español (Gracias a Tri-Valley CAREs y Raiza Marciscano-Bettis por la traducción.)

The following organizations generously sponsored our Livermore Lab
Good Friday 2022 Interfaith Worship and Witness:

Haiti Action Committee

Konko Church of San Francisco

Lakeshore Avenue Baptist Church
N. CA District, CPUSA
N. CA People's World/Mundo Popular
Newman Nonviolent Peacemakers / Bill O'Donnell Social Justice Committee
Niebyl-Proctor Marxist Library
Oscar Romero and Simone Weil Catholic Worker House, Hayward
St. John's Presbyterian Church, Berkeley
Tri-Valley CAREs
Western States Legal Foundation
The Widow's Mite d.b.a. Las Vegas Catholic Worker

Carolyn Scarr is presented with the 2022
Fr. Bill O'Donnell Social Justice Award
on the 1st Anniversary of the Ratification of the
Treaty on the Prohibition of Nuclear Weapons
Saturday, January 22, 2022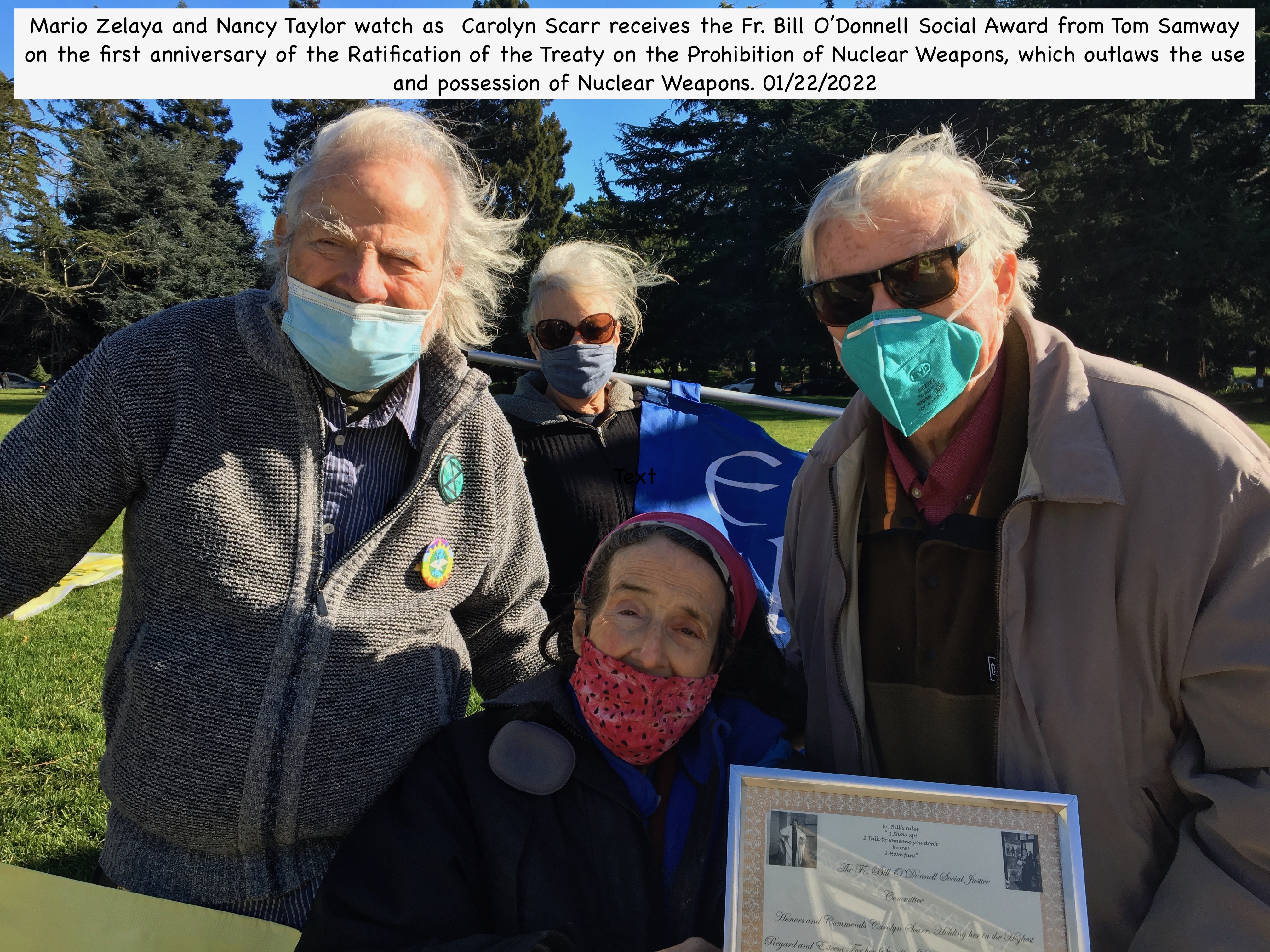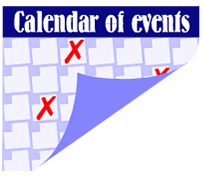 A fabulous Webinar was held on Saturday, December 18, "Countering the Lies about Nicaragua
"
This informed look at the recent election, against all the misinformation that has been spread
, by members of the international observation team, is not to be missed.

Here is
a link to the recording, thanks to Mark Coplan: Webinar on Nicaragua.
The flier (seen below) may be downloaded
HERE
)

Rick Sterling, who has spoken at EPI events in the past, writes:

Here are a few important links:

* Nica Notes (weekly news and analysis): https://afgj.org/category/nicanotes
* Julie Varughese's publication: https://towardfreedom.org/


* Task Force on the Americas: http://taskforceamericas.org/
* Mt Diablo Peace & Justice Center: http://ourpeacecenter.org/

The following is also relevant:

1) A new article exposes the facts behind the seven imprisoned "presidential candidates". How Can Some Progressives Get Basic Information About Nicaragua So Wrong?

2) Carolyn has observed that Nicaragua's laws are no stricter than those in the Foreign Agents Registration Act. https://www.justice.gov/nsd-fara

3) The 4 minute video presented during the webinar is here: Celebration of Nicaragua's Sovereign Election, 2021, "Bucking the Bully"

4) Music! Enjoy and save these songs from Daniel Zwickel for future use!
The first is about the six Jesuit priests and their two co-workers who were killed in San Salvador: Lágrimas.mp3

The second is about S. Brian Willson: Brian.mp3

All the best in 2022!

Cheers,
Rick
---


We are your peace and justice community.