---

Urgent Actions: Please e-mail or write the President of Colomboa in re Colombian prisoners & recent murders. DETAILS.
Article: Fresno trial recalls Salvadoran Archbishop Romero's slaying in '80s.
Urgent Action: Colombian Trade Union Activist Disappeared. This posting is a bit tardy, so please respond as promptly as possible Details.
Article: Check out this piece on impeaching Bush.
Articles: Please check ou these articles about Leisa Barnes.
News: The June newsletter is out!
Urgent Action:

RE: Assassination of Trade Union Lawyer in Colombia. This was posted tardily, but it is still timely to act! WHAT YOU CAN DO.

Rev. Fr. William J. O'Donnell
January 2, 1930 – December 8, 2003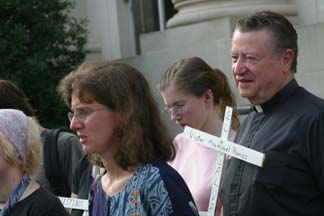 "Has anybody here seen my old friend, Fr. Bill,
Can you tell me where he's gone?
I thought I saw him walking up over yonder hill
With Abraham, Martin, Bobby and John.
---


To view Fr. Bill's memorial Website, click on:
Remembering Fr. Bill.
News: Georgia Trials conclude.
News: Georgia Trial plus local & national Feb. & March Events.
Urgent Action: The CUT trade union federation in Colombia reports that at least 72 activists and organisers from their affiliated trade unions were assassinated by state-linked agents last year. For Urgent Action, click on : MORE.
Article: They thought they could get away with switching names on the School Of the Americas, but Shrub, Ashcroft & co. have opened up a new, dirty little chapter in our long history of torture. This little puppy's called "Torture by Proxy". Cute.
News – January Report.
News – Kathy Kelly's Arrest, Requested Action, Local Report backs: December Report.
News – Read our November 25th report: More Accounts.
News – For articles on last November's action: SOA '03.
Interview – The new Fort Benning commander is Brig.Gen. Benjamin C. Freakley. Read about him in: Faces of Freakley.
Upcoming Events – Saturday, Nov. 15, benefit concert featuring Francisco Herrera & Jon Fromer at St. Joseph the Worker". Sunday, Nov. 16. Mass for the Jesuit Martyrs at USF. For details, click: HERE.
FILM – "Hidden in Plain Sight" is showing in San Rafael & the City. For information, click: HERE.
News – October 3: $250 to GA Roundtrip; Other travel news.
FYI – Legislative Update, 1999-2003.
Events – October events in the Bay Area
News – September 23, SOAW-W November travel in GA and Colombia / Romero Asassin Conspirator Charged in Federal Court Vigil.
News – August 21, GA Vigil travel and coordination; Prisoner of Conscience birthday
News – August 21, Prisoners of Conscience Update; Fall plans
Articles – What is perhaps the single greatest threat to democracy? Read all about Corporate Personhood.
Interview – Tanira Lebedeff of our LA SOA group conducted an interview with Hidden in Plain Sight director John Smihula. Check it out!
News – July 31, Letters from Prisoners; Sept. 23 - Religious Lobby Day in DC
News – July 4, Prisoners, Film Event, Legislation and more.
Action – Encouragement to Reps. especially PELOSI. [This may be an old posting, but the legislation is more active and vital than ever! (See News for June.)]
News – June 17: News & Events, Legislation, Meeting & Addresses.
News – May 13: Global Exchange to award Fr. Louie May 22.
News – May 7: Prisoner Addresses.
History was made Wednesday, April 30, 2003 when the U.S. navy vacated the bombing range on the Puerto Rican island of Vieques. Your Webscribe, Daniel's mother, Jean devoted nearly sixty years of her life to the independence of Puerto Rico. Read about it in ¡Viva Vieques Libre!
Action – Encouragement to Reps. especially PELOSI
Update – Prison Addresses for Don and Ann; Charlie safe in Baghdad.
PsOC – SOAW Prisoners of Conscience need YOUR help!
Event – Documentary showing at the Commonwealth Club May 8th. Click on: Hidden In Plain Sight.
May Events – Honoring the Memory of Bishop Gerardi of Guatemala
March – Please click on: Another Voice for Nonviolence - Charlie Liteky
Event – Pilgrimage to Prison - April 27-29