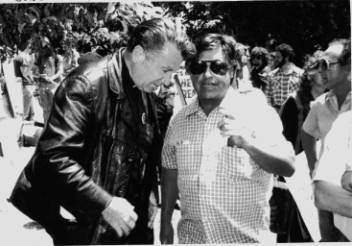 June, 1969
---
Bill had been reasonably happy at Sacred Heart. Even though he sometimes clashed with the pastor, he liked him. Also, the parish was in a poor area of the diocese. "It was near a ghetto. Most white people left, but there was a congregation of Italians that did stay, and that was the mainstay of the parish and the school, although the school began to educate minorities. I was kind of happy to be there because there was no more need to justify being pretentious or fake anything."

At the same time Bill hoped for his own parish, but his high profile activism had not sat well with Bishop Floyd Begin. "The bishop was always telling me, 'Over my dead body will I ever give you a parish.' He said it a couple of times. We had a seniority system, and there were younger guys getting parishes. Just to jab him (the bishop), I wrote him a letter requesting that he give me the poorest parish, because, I said, 'In all my experience, unless you're a pastor, you're powerless.' "

Bill wrote his letter in 1970, and he was still waiting for a response in 1973 when Bishop Begin was dying of cancer. Bill had been hearing rumors about his reputation with the bishop and other priests. He heard that Begin was feeling guilty for overlooking Bill, that he was a "point of controversy " during chancery personnel meetings. He also heard that during one meeting Father Jim Driscoll suggested they give him St. Joseph in Berkeley, because "he'll blow it in a year, and then we'll have done our job." (It was painful for Bill to recall this years later.)

At the time, white flight had taken St. Joseph's population down from 2,300 families to 700 and the parish faced a debt of $125,000. It would be a challenge to take over as pastor, and although some had their doubts about Bill's ability to manage the parish on his own, he was legally in good standing. "I had never done anything uncanonical or scandalous, like embezzling or womanizing or anything like that." So it was decided that Bill would go to St. Joseph the Workman. (It was later changed to Worker, to sound less sexist.) Some priests commented that in Berkeley Bill would be "with his own people," meaning the radicals and activists.

Early in 1973, when Bishop Begin's illness was becoming obvious, he telephoned Bill and told him he'd been assigned to St. Joseph in Berkeley. Bill recalls saying, "But, Bishop, it's not the poorest parish you've got." (He had been thinking of St. Patrick's in West Oakland.) "He said, 'You're crazy.' I said, 'Bishop, my sanity's not the question. However, I'll take it for a year. Then I'll go to the parish council and give them the opportunity to continue with me, and if they don't want me, I'll resign.' Bishop said, 'You're really crazy.' He was serious. What I was doing there was insisting that people have a say in the decision instead of this old system of just imposing someone."

At first Bill was reluctant to take St. Joseph, but later he realized that it was "an opportunity to be free." His first Sunday in the parish was March 3, 1973. There were two other priests – Pat Duffy, who taught education law at UC-Berkeley, and Bob Fontaine, assistant pastor. Bill recalls that he was "saddled with two conservatives, but at least I was boss, and I listened." He heard that Fontaine was complaining about him though he never said anything to his face. "I just felt so sorry for him, poor guy, a nice guy but so hampered and uptight. He was angry at life; he was pious."

Bill was especially angry when Cesar Chavez and some of his colleagues came to stay in the rectory and Fontaine wouldn't come out of his room to meet them.

"So here I am assigned to Berkeley, and I'm dropped down into this really right wing. The people who were active in the parish were very conservative. I thought, 'Oh, oh, here we go again.' But other people in the parish were so glad for Vatican II and so glad for the Church being involved in society."

His first Sunday a longtime parishioner organized a reception, and Bill invited his union friends. UFW representatives came, there was beer, dancing and food, "a big party," and it lasted from 4 p.m. to 1:30 the next morning. "All these non-whites, and the UFW was so controversial." Some parishioners were shocked.

Bill's predecessor as pastor was Father Patrick Kearney. "His style of being a pastor was diametrically opposed to my style. He would go to a parish meeting with a cassock on and a breviary and canon law, no discussion, no dialogue. He asked to move from here because he couldn't take the politics." Bill says Kearney was racially biased and "loved to be in the company of hierarchs. It's kind of a trap we priests can do, thinking we're special. It's so anti-Gospel and so anti-people, so anti- everything we preach."

Under Kearney liberal parishioners had a hard time, Bill says. Vatican II attitudes never took root, and "Devotions were more important than Mass almost, a very narrow spirituality."

As pastor, Bill was also responsible for a large church building constructed in 1879. "I looked at the plant, and I thought, 'This is a million dollars here, and I'm responsible.' And that's so secondary to the life of a priest. But I took it on, and we were $125,000 in debt, and that would be $600,000 or $700,000 today." Bishop Begin called him in and said the diocese would forgive $25,000 of the debt, adding, "Now I want you to go preach that the people must eliminate the rest of this debt." Bill recalls his answer: "Bishop, those people did not contract that debt. The decisions were made by people who are either dead or moved away. He got very upset and that was the end of the conversation."

Bill knew he had the upper hand in one sense. "If he moved me, he would be seen as one who hates the poor because I had the image of being pro-poor. Politically it was a great game."

At this point, Bill got lucky. A parishioner donated a house in Berkeley to the parish, and that paid off the debt. Now a group of parishioners geared up to celebrate the St. Joseph centennial, and Bill let them have their way. It wasn't his thing, he says, too full of nostalgia, too distracting when the community should be involved in social justice and Vatican II visions. "Having totally failed to convince the committee of what my theology is all about, I just let em go."

Throughout the 1970s, '80s and '90s and into the 21st Century Bill has remained an activist. He has always been ready to lend a hand to unions, joining picket lines, endorsing boycotts, speaking, celebrating Mass – whatever is asked of him. He has opposed U.S. policy abroad, in Latin America, in Iraq and Palestine and elsewhere.

As of July, 2003, he had been arrested 227 times, often for trespassing during a protest: in the fields of Santa Barbara County with UFW organizers, numerous times at the Concord Naval Weapons Facility, at Lawrence Livermore National Laboratory, at Ft. Benning, Georgia (protesting the School of the Americas), in El Salvador as he accompanied refugees returning home, at a metal works in Oakland, at the White House and at the Pentagon, at the Federal Building and Pacific Stock Exchange in San Francisco, at a fast food store. He traveled to Central America during the war in El Salvador; he visited Grenada after the U.S. invasion; he traveled to the People's Republic of China, to Haiti, Chiapas, Mexico, to the Korean Peninusla, to Palestine and to other hot spots, always in the cause of social justice.
---
Were you there?
Were you there when the drunken manager of an El Cerrito liquor store called the cops on Bill and other picketers?
Were you at Lucky Store headquarters when Bill pulled out a pen knife and challenged an overwrought security guard to a duel at dawn?
Were you with him at the Concord Naval Weapons Depot when Martin Sheen was arrested while reciting Hamlet?
Did you see Bill the day a Highway Patrol officer broke his wrist at Livermore Lab?
Were you part of the crowd when Bill and some 1,500 other protesters were detained in circus tents on the Santa Rita prison grounds?
Have you been with Bill at Ft. Benning? In El Salvador? At KPFA rallies in Berkeley? In court? On the 2003 Freedom Ride to Washington, D.C.?
Do you have a story to tell about Bill O'Donnell on the frontlines of social activism? About Bill anywhere else – in jail, on the farm, in the seminary, celebrating Mass, watching football?
If so, please send your story to saoras@earthlink.net and include your name and some way to contact you.
---