What's New:
---

Sherry Beville graciously allowed us to share Lee's tribute to her husand, Frank ... "Lee on Frank".
Thanks again to Carolyn Scarr for the beautiful poem she wrote and shared at the Celbration, "Dear Lee".
Thanks to Carolyn Scarr for providing us with the Talbot Award announcement.
Esther Ho offers this issue of the Westminster Hills Presbyterian Church newsletter, Connections. The author of the piece on Lee is their pastor, Rev. John Wichman: Connections.
I stand (sit, actually) corrected! I had thought folks would have tired of the background rain & thunder. So I put up a Seals & Crofts song. Then Arlene responded, "... as to the rain sound on your site, it was what I loved...did you notice that it rained yesterday morning...it was a gift from Lee to me...he knew how much I loved the rain and thunder.... Couldn't believe it, it was a total surprise...but how marvelous!" The song, though, is still available. Read below.I do invite you to listen to Nine Houses,
And if you're not totally offended by anything Thos. Kinkaid, here's what I originally discovered the rain&thunder sound clip to go with: RAIN. (The sound clip will take a moment to load.)
Please read Dorothy Wonder's lovely tribute to Lee, "Lee Williamson, beloved friend —"
Seals & Crofts' Nine Houses is a magnificent hymn to universalism ("So there's a lotta sense in livin' When the world we know starts givin' We can spread our wings some sunny day and fly away But 'til we all fly together, what sense does it make?") Think of it as a meditation. Take some time to really listen to it. Seals & Crofts combine their Bahá'í lyrical mysticism ("Children in cocoons; many colored tunes seem to make their way into a day where sense is no longer needed.") with classical guitar and mandolin technique, and adding sitar and tablas to create a true masterpiece. Click on : Nine Houses, and enjoy!
And if you missed the songs I sang at the Celebration, or would like to hear them again, I have set up a page for you, and have even included my setting of the passage from Micah which was the first reading, although mine was a slightly different version. And as long as I was at it, I even added my "Beatitudes", complete with an "Alleluia"! It's all there in Songs for Lee.
The Tri-City Voice ran this excellent article September 9. Read: "Reverend Lee Williamson". At the bottom of the page of that article they reference a Pace e Bene blog entry by Ken Butian but, unfortunately, give and incorrect URL (they left out a 'dash'.) Here is the correct link: Ken remembering Lee. And, today (the 10th), this came out in the Oakland Trib's Inside Bay Area, complete with photo (to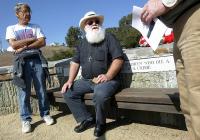 the right – click on it to view enlarged & w/caption.) Read: "Hayward Pastor to be remembered".
Brandi sends us three more great photos ... 3 of Lee
Arlene writes, "Daniel..this an article written for the most current Circuit Rider, our church newsletter, by our Pastor, Rev. John Chamberlain, a good friend of ours for many years. He has forwarded it to me with permission to have it added to the PastorLee Website...Thank you so much for putting it in, I think it will be a wonderful addition to what you already have on the site."
Click on "Thinking About Lee".

Googling for Rev. Chamberlain's e-mail address, I chanced upon this Webpage with some thoughtful words:
http://www.whpchurch.org/
Please note corrected e-mail address for Arlene: Spiritwing43@aol.com

Brandi Stewart writes, "Hello, My name is Brandi, I am married to Arlene's nephew Ian. This is a picture of Ian and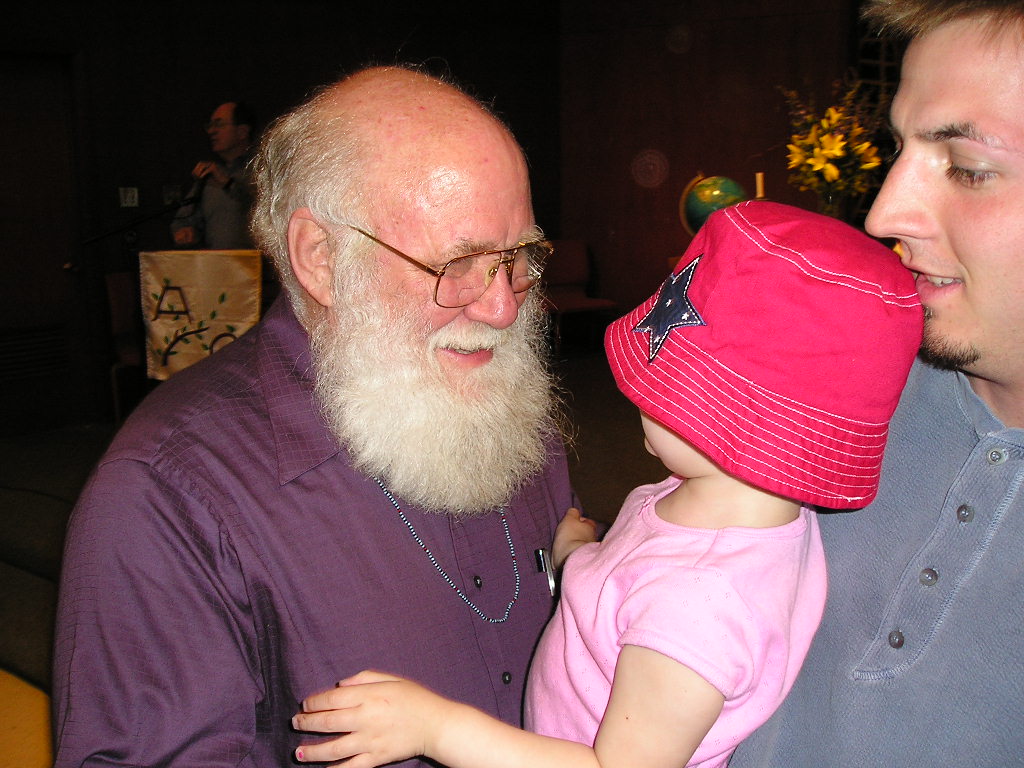 our daughter Kalena at Lee's retirement party. Feel free to put it up on the web site if you want. I have more pictures that I'll be uploading to the computer soon." (Click on the photo to enlarge.)
John Auer adds this, from Lee's retirement party, "Well Done, Long-Standing Servant"
Paul Quinlan reflects :How often do we (and me!) forget the basic essentials of what Lee was talking about. I once asked him what was his source for peace-making. He replied with no hesitation: the Sermon on the Mount! since I knew the O'D AND Lee you can imagine the challenge it puts before me. And one thing both those remarkable men were full of was compassion, gentleness, and forgiveness, well; it speaks for itself. PQ

John Auer writes: "This gem of Lee's work and witness was delivered outside his usual venues and may not have been seen/heard by many. He was born to pastor, priest, preach, and prophesy!"