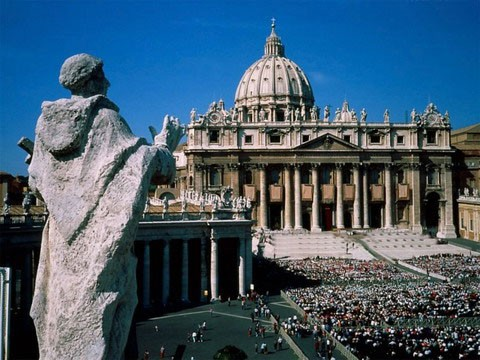 Jesus appeared on the balcony overlooking Piazza San Pietro. Through a device he borrowed from his close personal friend, Gene Roddenberry, he would be heard by every Christian on earth.
"First," he began, "I am not a Christian. I am a Jew. That whole shmontses was Paul's idea, the shmok.
"If you want to be a good Christian, start by being a good Jew. As my chaver, Hillel, once said,
'אַז וואָס איז כייטפאַל צו איר, טאָן ניט אַנטו אנדערן: דאס איז דער גאנצער
תורה. די רו איז קאָמענטאַר' ("What is hateful to you, do not do to your fellow: this is the whole Torah; the rest is the explanation; go and learn.")
"Then Yiddish you should go study."
Turning off the device, "Shmoks," he mumbled as he turned and walked away into eternity.
---
Shmontses is Yiddish for 'nonsense'
Shmok (usually pronounced shmuk) is variously used to mean 'fool, idiot, contemptible person; naive person, person easy to deceive'.
In American Yiddish it has a much more vulgar connotation, having to do with a male member or orifice. Jesus, of course, was not American, so his intent was meant to convey the former.
Chaver means a 'male friend' or 'buddy'.