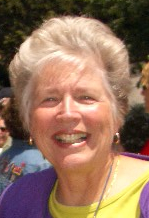 ---
As an AUSD teacher of 31years, an Alameda parent and grandparent, and a two-term School Board member, I have been deeply involved with the schools and this community for the past 40 years. I bring the experience, knowledge, training, and commitment that is crucial for leading our school district during the coming years.
Let me tell you what I'll be able to do:
• I will be able to evaluate and work with a new superintendent because of my extensive experience of having worked with the past seven AUSD superintendents.
• I will be able to use my preschool, elementary, middle and high school teaching background to make the complex decisions which provide the basis for educational excellence in Alameda schools.
• I will continue to respect, value and encourage the involvement and contribution of Alameda's parents, students and community.
• I will seek the knowledge and expertise of our district's employees and employee groups whose services are essential to AUSD.
Our District is in the midst of many challenges: the search for a new superintendent, extensive personnel change at all levels, the impact of the state's limited budget on educational funding. I bring long-term knowledge and historical perspective of Alameda's system. I know education! I've seen what has been tried, and I know what works. I will be able to use this understanding as we evaluate the present and plan for the future of our schools.
Alamedans have supported me with the highest number of votes in both of my past two elections. I pledge my continued integrity and dedication to you, and humbly ask for your support.
---
Here is my Candidate Statement for the Aisian Pacific American Democratic Causus: CLICK HERE.
---
Contribute to Janet's campaign!
Campaigns - even local ones - are very expensive.

Your contribution allows me to share information with Alameda voters.

Please send your contribution to:

Janet C. Gibson for Alameda School Board
1424 Morton Street
Alameda, California 94501

Please include your address, occupation and employer name, as this information is required by state law for contributions of $100 or more.

Janet C. Gibson for Alameda School Board may accept individual contributions up to $3,600 in 2008 from individuals, businesses, corporations, unions, PACs, or other legal entities.

Contributions from foreign nationals are prohibited.

Contributions are not tax deductible for federal income tax purposes
---
To contact me:

---