Natural Medicine Program at the Clinic
by Natali Montoya Sequeira, Naturopath, Psychologist, Floral Therapist

In our natural medicine program we are working on an integrated focus as much as possible. We focus on the illness as a result of a disequilibrium between a person's physical and emotional health. We consider that both physical and emotional states cannot be looked at as separate; they are intimately related and thus both have the same importance.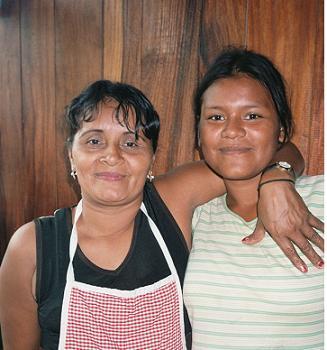 In a recent conversation at the hospitality house in Managua, Lucia Urbina Ojeda mentioned she has been a member of the Maria Luisa Ortiz Cooperative for more than 17 years. She is pictured here with her daughter, Yessenia.
We consider our history, at the regional, municipal, and community level, our culture, personal idiosyncrasies, and family origin as facts that influence the course of an illness. Also, we look at the development process in which each person may have had the predisposition to suffer the illness.

Inside of the natural medicine consultation, we use different alternative therapies depending on the particular case of each patient. In the majority of cases, we use medicinal plants, acupuncture, aromatherapy, acupressure, and massage. When we find cases in which the predominant factor is psychological, like psychological abuse, and the lingering effects of physical abuse and sexual violence, we give emotional support, accompaniment, and follow-up, including Bach Flower Remedies (for more information, see http://www.bachcentre.com).

Like naturopathy, this job for me is at the same time very comfortable and always a challenge, since working with natural medicine and alternative healing therapies is always a continuous learning process. At the same time, I consider that the attention to every case contributes to my personal development since one learns about every single person with whom we share time.
The most common illnesses treated with natural medicines
and alternative therapies are: Gastritis, migraines, arthritis, muscular tension, cough, flu, cystitis, stomach aches, colitis, preventing asthmatic crises, goiter, colic, parasites, diarrhea, allergies, fungi, PMS, poor blood circulation, abdominal pain, and extreme anxiety.

The most common emotional cases we attend are: Stress, anxiety, nervousness, insomnia, depression, family violence, sexual violence, chronic pain, and post-traumatic stress.

Translated from Spanish.