LOIS' ISADORA DUNCAN DANCE CLASSES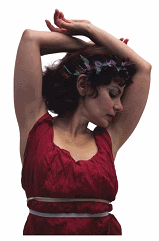 Isadora Dance "as an art", inspired by natural movement and set to existing classical music is beautiful and expressive.
Duncan's dance technique includes a short barre, strengthening feet, legs and back, followed by stretches and gestures taken from the Duncan School in Paris (1903-1927.)
Movement across the floor will include waltzes, reaches, light runs, Duncan walking, etc. I will include serious weighted movements taken from Isadora's dances, preparing the dancer for the historical choreography.
Duncan style tunics will be available for students.
The class is designed for all levels of dancers. Dancing is a natural and healthful expression for all to enjoy!
LOIS' TRAINING
1. PACIFIC BALLET OF SAN FRANCISCO, ALAN HOWARD
2. PEPPER SMITH DANCE STUDIO IN SAN FRANCISCO
3. SHELA XOREGOS, MODERN DANCE IN SAN FRANCISCO
4. OAKLAND BALLET, RONN GUIDI
5. SAN FRANCISCO DUNCAN DANCERS, MIGNON GARLAND
6. INTERNATIONAL DUNCAN DANCERS, MARIA RUIZ
7. HORTENSE KOOLURIS, MASTER DUNCAN TEACHER, NEW YORK
8. JULIA LEVIEN OF NEW YORK, MASTER DUNCAN TEACHER
9. CONTRA COSTA BALLET, WALNUT CREEK
10. COLLEGE OF MARIN, DIABLO VALLEY COLLEGE
LOIS' TEACHING RÉSUMÉ
1. FOUNDER OF DIABLO DANCE THEATER OF DANVILLE
2. FOUNDER OF BALLET PETITE OF DANVILLE
3. OAKLAND BALLET
4. SAN FRANCISCO BAY AREA COMMUNITY CENTERS, NAPA, MORAGA,
LAFAYETTE, PLEASANT HILL, ETC.
5. TEACHING TWELVE SENIOR EXERCISE CLASSES IN CONTRA COSTA COUNTY
6. TEACHING THE DANCES OF ISADORA DUNCAN
7. PRIVATE DANCE COACHING
8. PERSONAL TRAINER AT LINDA EVANS