---
Barefoot Dancing in a Greek Tunic,
at the Kensington Library
A performance of Isadora Duncan dance was a slight departure from the usual fare at the Kensington Library this week.
By Charles Burress, June 16, 2011
El Cerrito Patch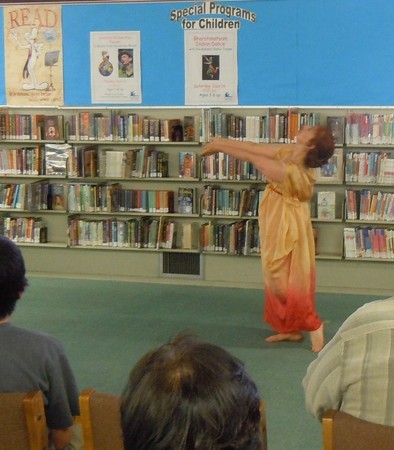 Lois Ann Flood of Danville performed Isadora Duncan dances at the Kensington Library, June 13, 2011. Credit: Charles Burress
---
The Kensington Library became a modest dance stage this week as a barefoot Danville woman in a classical Greek tunic recreated the dances of Isadora Duncan, who grew up in the Bay Area and achieved world renown for her radical reinvention of modern dance.

Lois Ann Flood, founder of Diablo Dance Theater of Danville, performed a free, hour-long series of Duncan dances for an audience of about 20 people Monday night. Bookcases served as the wings of the impromptu stage, and a small CD player mostly cooperated in providing music.

Duncan — born in San Francisco in 1877 or 1878 and raised in poverty in Oakland — rejected the emphasis on ballet of her time.

"Being a California girl, she said, 'Nope, I do not like the ballet slippers and tutu,' " Flood told the audience. "So she took them off."

Influenced by the nature around her and the reverence for Greek art and culture popular at the time, Duncan developed her own expressive style performed barefoot in a Greek tunic.

"Isadora was world-famous," said Flood, who has been performing Duncan dance for more than 20 years, "and one of the reasons I do these programs is not to promote myself as a great dancer. I'm just opening a little window for you to see what she sort of left us."

Duncan "changed the way the world viewed women and art, dance, fashion," Flood said. "She was a feminist. She was a political activist. She was many, many things. But the biggest thing she was famous for was creating this style of dance."

Flood said she sees a surprising lack of awareness about Duncan.

"For a lot of Californians — I go to colleges and museums and many libraries and small theaters — you'd be surprised how many people do not know anything about Isadora," continued Flood, who also teaches Duncan dance. "And it's a shame, because if she were a man, there'd be a national holiday named after her."

As part of the program, Karen Elise of Benicia read selections by and about Duncan. One of the passages by Duncan said:

"I am inspired by the movement of the trees, the waves, the snows, by the connection between passion and the storm, between the breeze and gentleness, and so on. And I always put into my movements a little of that Divine continuity which gives to all of Nature its beauty and life."